Twenty years old heroes. The young defenders of the Republic.
Nel momento in cui fu costituita la Repubblica, confluirono a Roma, da tutta l'Italia, patrioti decisi a combattere non solo per la difesa della città, ma per il conseguimento dell'agognata unità nazionale.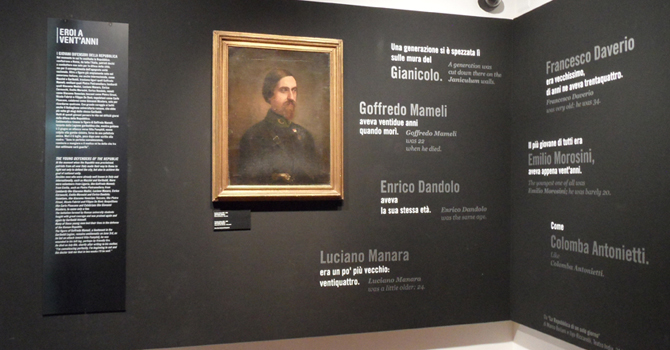 When the Republic was founded, many patriots arrived to Rome from all over Italy, determined to fight for the defence of the city, but also for the longed-for national unity. Besides well known figures in the Italian and international panorama, such as Mazzini and Garibaldi, there were also Goffredo Mameli, who came from Liguria, Pietro Pietramellara from Emilia; Giacomo Medici, Luciano Manara, Enrico Cernuschi, Emilio Morosini, Enrico Dandolo, from Lumbardy, Giacomo Venezian from Veneto, Pietro Cironi, Nicola Fabrizi and Filippo De Boni from Tuscany, Carlo Pisacane from Neaples, Giovanni Nicotera from Calabria, just to mention a few.
 The Roman university Battalion fought with great courage, receiving also the praise of Garibaldi. Many of these young people lost their lives for defence of the Republic. Goffredo Mameli's profile remains emblematic, a lieutenant of the Garibaldi Legion who was injured in his left leg by one of his comrades on June 3 1849. He died three days later.